Interviewed by Stephanie Robbins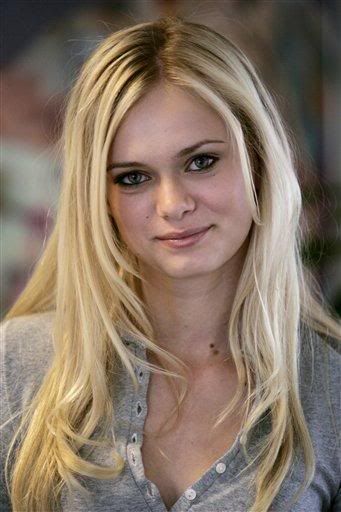 Rising young actress Sarah Paxton (Sleepover) is making a splash in her new movie Aquamarine where she plays a mermaid hoping to find love as a human on land. It would seem that working on a big movie would allow Paxton to wear many different outfits. But, she admits, her character only has two main ones – a big t-shirt that doubles as a dress and a pretty, flowing dress for a dance scene.
This 17-year-old's real-life wardrobe couldn't be more different. When she's not busy working, Paxton can be seen hanging out in a pair of jeans and a t-shirt. "I don't follow trends very closely," she says. "My style is very laid back."
Owning over 20 pairs of jeans, Paxton says her favorite brands are Paper Denim & Cloth, True Religion, and A&G. "I wear them all so much that they are always fading and ripping," she says. She's also a big fan of C&C t-shirts and Juicy Couture. When she needs to fill her closet with new items, she can be found shopping on Los Angeles' ultra-hip Robertson Boulevard. Small boutiques like Lisa Kline, Kitson and Madison are among her favorites there.
Because her style is so simple, Paxton admires the risqué fashion choices of celebs like Lindsay Lohan, Nicole Richie and Mischa Barton. "I see how they put pieces together and I am like, 'I want to do that!' But, I am not that coordinated," she explains.
Even though Paxton's favorite clothing item is her jeans, like most women, she loves shoes. "I am a flip-flop, sneaker person," she says. This rising star owns Converse sneakers in every color and several pairs of customized Vans. She also loves handbags by top designers like Louis Vuitton, Balenciaga and Chloe but says they are too pricy to own.
Even with her new movie coming out in March, Paxton hasn't let celebrity go to her head. She's still just a teenager who likes to lounge around in an everyday t-shirt and jeans.